2014 Edward T. Cone Composition Institute
DANIEL J. CHOI: Scaena Ager
ABOUT THE COMPOSER
Daniel J. Choi (b. 1991), who recently completed bachelor's degrees in music composition and economics at the University of Miami, continues to establish himself as an emerging composer in both university and professional scenes. The Cleveland Orchestra has read Choi's compositions in three consecutive annual workshop residencies; his music has also been performed by the Pulse Chamber Ensemble, Borup-Ernst Duo and members of the soundSCAPE festival, a contemporary new-music festival in the Italian Alps. In addition to his participation in the NJSO Edward T. Cone Composition Institute, Choi will attend the ICA ClarinetFest—where his most recent work will be performed by MiamiClarinet—in early August. Choi's past teachers include Lansing McLoskey and Robert Gower at the University of Miami's Frost School of Music. Choi will begin graduate studies at the Boston Conservatory in the fall.
PROGRAM NOTES
Scaena Ager
Scaena Ager (Latin—"scenes from fields") was originally conceived through the Echoes of Fantasique, a reading session competition with members of the Cleveland Orchestra and the Frost Symphony Orchestra under the direction of James Feddeck. As such, I presented a work that exhibits my reactions towards Berlioz's Symphonie fantastique.
I decided to incorporate quotations of Symphonie fantastique's middle movement, "Scène aux champs," not because of my infallible expertise of the musical selection but because I could hardly recite the main melody from memory. Score studying is a major focus in my post-secondary education, and I wanted to experience the particulars of Berlioz's masterpiece that would captivate my attention. As a result, I drew parallels between the beginning and ending of both "Scène aux champs" and Scaena Ager. Specifically, my original work begins almost verbatim as the Berlioz counterpart, with his iconic English horn solo followed by the answer of the oboe. Everything but the pitches remains the same. Between the two solos are the "thunders" of the percussion instruments, an allusion to both Berlioz's revolutionary timpani writing and the programmatic ending of the middle movement. The parallel works end with the sound of the French horn fading into silence. But, as influential as Symphonie fantastique is to Scaena Ager, the focus of the latter work relies on its own original elements.
– Daniel J. Choi

LEMBIT BEECHER: Kalevipoeg in California
ABOUT THE COMPOSER
Praised by The San Francisco Chronicle for his "hauntingly lovely and deeply personal" music and by The New York Times for his "alluring, emotive" work, Lembit Beecher is a composer who strives to create intimate, heartfelt and dramatically potent musical experiences. Beecher is currently serving a three-year term as the first composer in residence of Opera Philadelphia in collaboration with Gotham Chamber Opera and Music Theatre Group of New York. Gotham Chamber Opera premiered his chamber opera I Have No Stories To Tell You at the Metropolitan Museum of Art in February 2014, in what The Wall Street Journal dubbed an "ingenious project."
Born to Estonian and American parents, Beecher grew up under the redwoods in Santa Cruz, California, a few miles from the Pacific Ocean. He has lived in Boston, Houston, Ann Arbor, Berlin and New York, earning degrees from Harvard, Rice and the University of Michigan. This varied background has made him particularly sensitive to place, ecology, memory and the multitude of ways in which people tell stories. Beecher's work has been performed at the Tanglewood, Aspen and Cabrillo Music Festivals and by the Del Sol String Quartet, Aizuri Quartet, Shepherd School Symphony, New York Youth Symphony and Opera Philadelphia, among others. He has been in residence at the Copland House and Scrag Mountain Music; he was a fellow at the University of Michigan Institute for the Humanities.
PROGRAM NOTES
Kalevipoeg in California
Kalevipoeg in California (2013) imagines what would happen if the Estonian folk hero Kalevipoeg were magically transported into present-day San Francisco. Though I was born and raised in California, my mother is Estonian. I spoke Estonian at home and remember being drawn to the strange characters of Estonian folklore. I was particularly fascinated by Kalevipoeg, the great hero of the Estonian national epic. The deeply flawed Kalevipoeg was not much of a hero; actually, his bluster, thoughtlessness, massive strength and propensity to get drunk and commit heinous crimes combined to make him a pretty unlikeable person. For some reason, perhaps in an effort to understand his character better, or perhaps just as a playful pastime, I began trying to imagine how Kalevipoeg would deal with contemporary society—what would happen if he were suddenly to appear, say, in downtown San Francisco? I imagined his power turning into awkwardness: a spastic, clumsy dance of sorts. And as I imagined him flailing about, searching for something recognizable, my image of him, a relic of a mostly forgotten world, became a sad one. Faced with the hardhearted crudeness of the modern world, Kalevipoeg's own brand of crudeness became more sympathetic. So I imagined Kalevipoeg lashing out at the modern world in one last mighty outburst and then roaming away from the city and finding solace in nature, in particular in the majestic, ancient redwood groves of California, one old fogy hanging out with others.
– Lembit Beecher

DAVID BIEDENBENDER: Strange, Beautiful Noises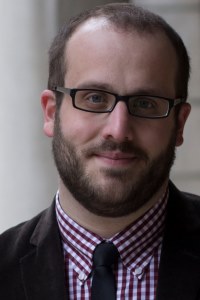 ABOUT THE COMPOSER
David Biedenbender's first musical collaborations were in rock and jazz bands as an electric bassist and in wind and jazz bands as a bass trombone and euphonium player. A musical omnivore and a passionate collaborator, Biedenbender is inspired by a diverse array of interests and experiences, and his creative interests include working with diverse artists from classically trained musicians to improvisers, acoustic chamber music to large ensembles, and interactive electronic interfaces to live brain data. Biedenbender has collaborated with many renowned performers and ensembles, including Alarm Will Sound, the PRISM Saxophone Quartet, Stenhammar String Quartet (Sweden), Aspen Contemporary Ensemble, VocalEssence, United States Navy Band, Eastman Wind Ensemble, Philharmonie Baden-Baden (Germany), Atlantic Chamber Ensemble, Detroit Symphony Orchestra bass trombonist Randall Hawes and University of Michigan Symphony Orchestra and Chamber Choir, among others.
Recent recognition for his work includes two ASCAP Morton Gould Young Composer Awards and the 2012 Lee Ettelson Composers Award. He received a Doctor of Musical Arts degree in composition at the University of Michigan and has also studied at the Swedish Collegium for Advanced Study, the Aspen Music Festival and School and in Mysore, India, where he studied South Indian Carnatic music. His primary musical mentors include Stephen Rush, Evan Chambers, Kristin Kuster, Michael Daugherty, Bright Sheng, Christopher Lees, David R. Gillingham, José Luis-Maurtúa, John Williamson and Mark Cox. More information is available at www.davidbiedenbender.com.
PROGRAM NOTES
Strange, Beautiful Noises
Strange, Beautiful Noises was written in the months preceding the birth of my son, Izaak. Along with the usual pre-parental anxiety, I found myself frequently imagining what it would be like to hear so many sounds for the very first time as he does, both through the watery walls of the womb and then suddenly without that warm, safe frequency filter. This piece was a gift to him and also a way for me to work through the anxiety of becoming a father for the first time. Nervous ticking, funk bass lines played by bass clarinet, rewind and reverse playback effects, a trombone solo imitating [famous cartoon character] Charlie Brown's teacher, Mrs. Donovan, and many other noises make their way into this piece; all these elements eventually spiral into a runaway train-like ending.
– David Biedenbender

CHRIS ROGERSON: Night and the City
ABOUT THE COMPOSER
Hailed as a "confident, fully-grown composing talent" (The Washington Post), Chris Rogerson's music has been praised for its "virtuosic exuberance", and "haunting beauty" (The New York Times). He has received commissions and performances from the Kansas City Symphony, the Buffalo Philharmonic Orchestra, the New World Symphony, the Grand Rapids Symphony, the Chicago Sinfonietta, the Cabrillo Festival Orchestra, the New York Youth Symphony, the Brentano Quartet, and the JACK Quartet, in venues including Carnegie Hall, the Library of Congress, the Kennedy Center, and Symphony Center in Chicago.
Recently, Chris was honored with a Charles Ives Scholarship from the American Academy of Arts and Letters. He has also won awards from ASCAP, BMI, the Theodore Presser Foundation, the National Foundation for the Advancement of the Arts, the National Association for Music Education, the New York Art Ensemble, and the Aspen Music Festival (Jacob Druckman Award).
Chris has been in residence at the MacDowell Colony, Yaddo, and the Ucross Foundation. He has also been Composer-in-Residence for the Chamber Music Festival of Lexington, Young Composer-in-Residence at Music from Angel Fire, and a fellow at the Aspen Music Festival, the Cabrillo Festival, and the Norfolk New Music Workshop.
Born in 1988, he studied at the Curtis Institute of Music and the Yale School of Music with Jennifer Higdon, Aaron Jay Kernis, and Martin Bresnick, and is currently a doctoral fellow at Princeton University. Chris is represented by Young Concert Artists, Inc.
PROGRAM NOTES
Night and the City
Night and the City was appropriately composed primarily late at night in Philadelphia, where I was studying at the Curtis Institute of Music. The piece reflects the busy energy of such a large city, with people and traffic making noise seemingly without end. The middle section of the work is more tender and soft—perhaps the rare instance when one can imagine falling asleep. There is a sense of grandeur and splendor throughout Night and the City—it's a musical portrait of my first experience living in a major metropolitan city.
– Chris Rogerson